Dog Behavioural consultant serving Edmonton and surrounding area
Issues including:
Aggressive behaviours
Fearful behaviours
Barking
Jumping
House training
Destruction
Separation Anxiety
Puppy manners
All puppies need guidance to fit into their new families. It can be a frightening experience for a pup to leave their mom, brothers, sisters, breeder and everything familiar including the smells and sounds of their birth place. Allyson teaches both dog owners and their puppy how to bond and communicate effectively. Of course your puppy will learn the basics: housetraining (including using a bell to ask to go outside), no biting, no jumping and walking on a leash. Manners are taught to ensure your new pup fits into your home and understands what's expected of her. Allyson teaches behaviour modification not just dog training, so you and your puppy will learn everything you need to communicate effectively. Using naturals behaviours and communication, the pup is taught to think and reason situations out. Using only the kindest, most up to date and scientifically proven methods, Allyson assists you and your puppy with learning everything needed to have the relationship you dream of.
Dog Training in Edmonton can be confusing, do you need:
Dog Training or Behaviour Modification?
Each addresses different issues
Dog Training - teaches commands
Behaviour modification - changes the dog's mind about the issue

Allyson teaches
Humans to understand their dog
Dogs - self control and respect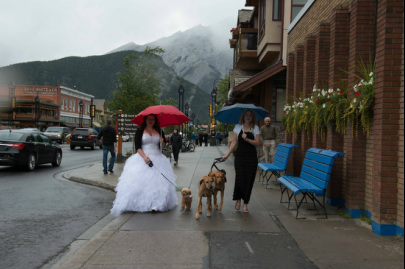 There's always time for a dog walk
Learn to change most behavioural problems using behaviour modification without touching or speaking to your dog.
Most of the behavioural problems dog owners encounter with their dogs are a misunderstanding between the two species.
This is why Allyson teaches you how to use direction, not correction to work with your dog.
Once both species are clear on what is expected, most problems are easily resolved.